---
+5000M
---
GPS route – Unmarked route
Parc de les ribes del ter
The Traka is a non-competitive bicycle ride that takes place along roads and villages.
Ethics, camaraderie and respect for the environment are the most important values that we demand from the participants. It is allowed to stop for lunch, dinner, breakfast, to fix the bike or to sleep as long as the participants recover the route where they left it the last time.
Participants will be guided by the GPS Navigation system. The traffic code and all its instructions must be strictly followed.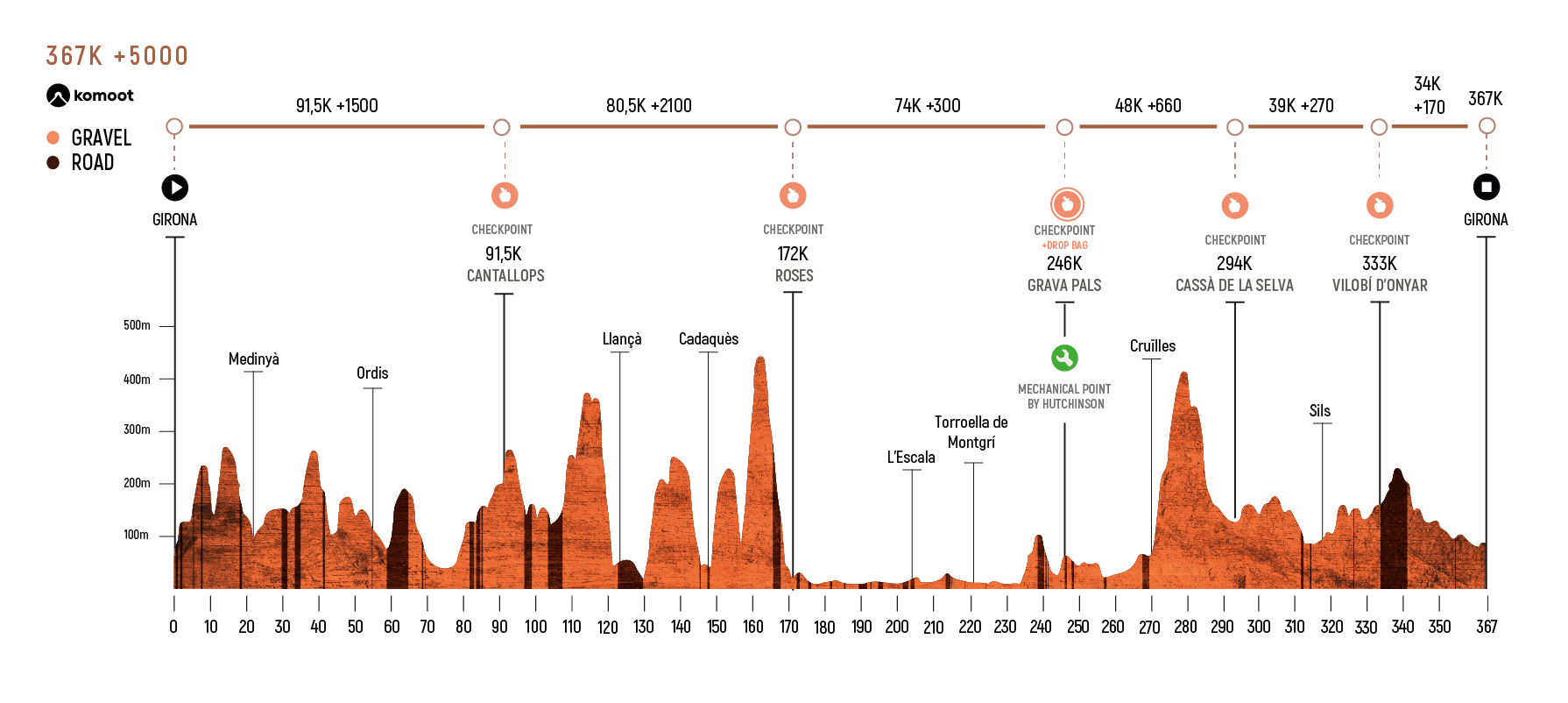 Route
Distance and altimetry
Real distance: 367 k
Timed distance: 367 k
Ascend: +5.000 m
Acumulated altitude: 10.000 m
Maximum altitude: 420 m
Minimum altitude: 0 m
Terrain
Track: 311 km
Asphalt: 56 km
Time first men: 13 hours 20 minutes
Time first women: 18 hours 30 minutes
Cutting time: 32 hours

Schedule cuts (pass control)
Feed zone 1. Cantallops 91.5k: 1.30pm Saturday
Feed zone 2. Roses 172k: 20:30 Saturday
Feed area 3. Pals 246k: 6:00 Sunday
Feed zone 4. Cassà de la Selva 294k: 9:30 Sunday
Feed zone 5. Vilobí d'Onyar 333k: 12:15 Sunday
Finish: 14:00 Sunday

Light hours saturday 29 april: 15:00
Night hours from Saturday 29 April to Sunday 30 April: 9:00
Navigation GPS (no marks)
Tracking for geolocator
The Traka is a gravel bike or MTB ride where the traffic code must be complied with and respected Paths, roads and the interior of the villages are open to traffic.
WELCOME
Welcome to Girona. Don't miss details of The Traka. Check the timetables HERE.
BIKES VALIDATION
Friday 15 to 19 at Parc de les ribes del ter.
We will check the white front light, red rear light, brakes, steering and bottom bracket. Once your bike has been checked we will place a label on it.
CHECK-IN
Friday 15:30 to 19 at Parc de les ribes del ter.
During the collection of the geolocators, the turned off geolocator will be delivered. You will have to turn it on on Saturday morning when you leave your house, hotel or apartment and before you get to the exit, remember to carry it in the upper part of your rucksack. You can't turn it on at night. In the exit control we will check that everything is correct.
Monitoring will be done through Track the Race.
VALUES
Our main goal is to leave no trace. The route is completely open to traffic. Respect the traffic code and the rural and human life of the environment. Catalunya is a safe place. You will not encounter conflicts or dangerous wild animals. Remember to always keep an eye on your bike.
MANIFEST
Love and respect for the environment, sporting ethics and solidarity with all colleagues. The Traka 360 is the opportunity to enjoy with gravel the most beautiful areas of our territory without leaving a trace. Your goal is to finish; ours is to take care of you as much as possible.
ADVENTURE
You can deviate from the track to eat, drink, sleep or repair your bike. Afterwards, you will have to resume the route at the same point where you left it. In case of abandonment you must manage your return. Remember that it is totally forbidden to return on motorways and national roads.
TRACK
The organization can modify the track for weather reasons up to the day before. All modifications will be communicated by email. The definitive tracks will be sent the same week as the race. The highlight of the route is the first 25km, they are designed with two steep climbs and slow sectors to divide possible large groups. It also crosses the natural park of Cap de Creus and we have a 7km singletrack sector.
TRACK
Once the

track

has been entered into the

cycle computer

, check that the map is correctly uploaded. All roads are clean, if you find a dirty road with branches you have to

backtrack

. If you

find

a road closed due to a traffic accident or works, you can recalculate to get back on

the track

as

soon as possible

.
EMERGENCIES
In the face of a physical or mechanical emergency, you can take any means of transport, but you must notify the organization beforehand. To continue, you will have to restart the route at the same point where you left it.
MATERIAL
It is your responsibility to bring the appropriate equipment, but the red light from the back, the white light from the front, the cell phone not on mute in case we want to call you and the geolocator that we will provide are mandatory. It is also highly recommended to carry a bell to warn pedestrians. The rest of the material to deal with the 367 km is up to you: sleeping bag, food, credit cards, etc.
IT IS NOT ALLOWED AND IS PENALTIES WITH TIME
Receiving external help outside of Life Bases.
Drive on the left side of the roads.
Exceed 20km/h in the interior of towns.
Advance inside the towns.
Not respecting the traffic code.
Ride in a group without taking over (that is, set your own pace and don't depend on anyone else)
FOLLOW
You will receive a geolocator. Both the organization and your friends or family can follow you through tracktherace.com.
SECURITY
A media and security team will follow your exit for 36 hours. In your number plate you will find the telephone numbers in case of emergency. Remember that to take the exit you must have insurance. If you did not hire it when you registered because you already have one, remember that it must have coverage for 36 hours.
BAG OF LIFE
There will be the life bag service in Food Zone 3 – Grava Pals. It will be left during Check-in on Friday from 16:00 to 19:00. The Pick Up will be sunday on 13:00 at Parc de les ribes del ter.
SURFACE
80% gravel tracks in good condition, 5% singletrack and 15% secondary roads.
For us, the best choice of tires, if you are a

good rider

is

40mm

and if you are not very technical between

42mm

and

45mm

. It is also always advisable to bring 700 wheels.
START
There will be a single departure at six in the morning.
CLIMATE
Temperatures at this time of the year range between 15 and 25 degrees, depending on whether it is cloudy or sunny. The northern area of the route can blow from the north wind, there is a northerly wind 150 days a year, even so, it does not usually blow from the north, but you have to be foresight. Do not forget that the Mediterranean climate is very diverse and changing. You may have to deal with rain or wind.
Services
Official gift
Environmental tax
Personalized plate with flanges
Timing and chip
Code Komoot to download the track
Online time
Online Photos

Feed zone

pre start (breakfast)

Feed zone

on track

Feed zone

at finish
Wardrobe service
Assistance en route
Medical point
Showers and toilets
Car park
Physiotherapy service (Saturday at Base de vida 3 from 4:00 p.m. to 9:00 p.m. and Sunday from 11:00 a.m. to 7:00 p.m.)
Rest area on route at Life Base 3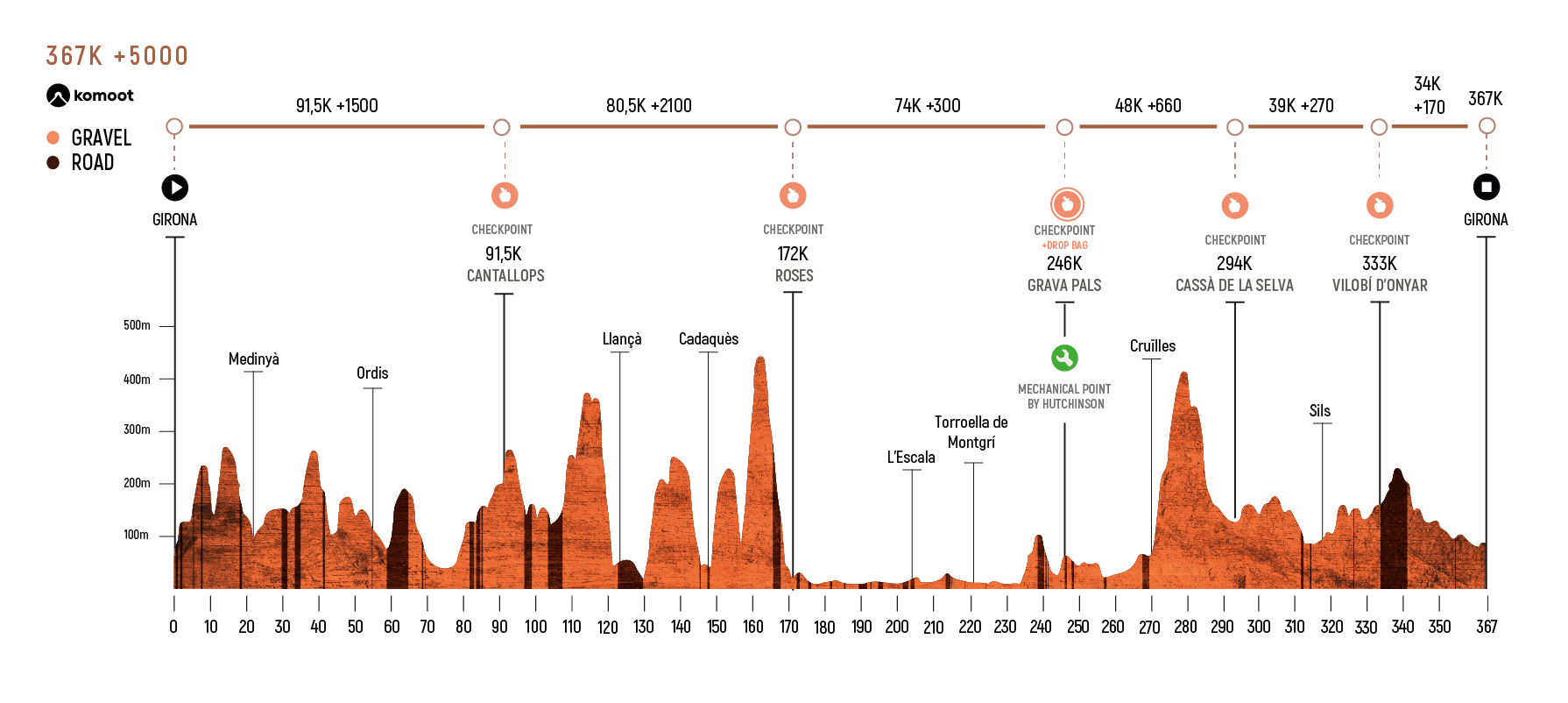 * Remember that we do not provide any single-use packaging at the life bases
Life bag: Yes. Place: Feed zone 3 Grava Pals
It will be left during Check-in on Friday from 16:00 to 19:00. The collection will be on Sunday from 1:00 pm in the arrival area

Feed zone

: 5
Food zone 1. Cantallops 91.5k
Food zone 2. Roses 172k
Food zone 3. Gravel Pals 246k (rest zone enabled)
Food zone 4. Cassà de la Selva 294k
Food zone 5. Vilobí d'Onyarand 333k

Arrival feeding area
In the arrival area
Time: until 14:00
Life and arrival bases product
Feed zone 1,4 & 5: water, Green-cola, isotonic drink, banana, orange, sweets, nuts, olives, quince, potato omelette & fuet. All free gluten.
Feed zone 2 & 3: water, Green-cola, isotonic drink, banana, orange, sweets, nuts, olives, quince, potato omelette, whipped cream (all gluten-free) and pasta or rice.
Finish: water,

Green-cola, isotonic drink

, coffe, banana, orange, sweets, nuts, olives, quince, potato omelette, whipped cream (all gluten-free) and pasta or rice.
Individual categories
Absolut

woman

Absolut man

No binary